Whitewater Paddlers Resources and River Descriptions for Japan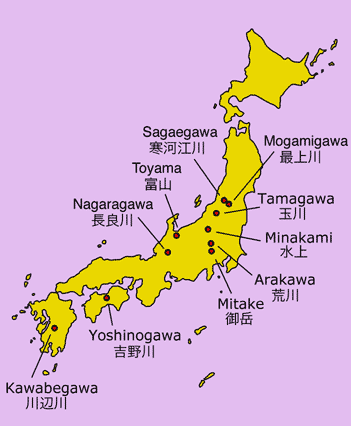 river names link to descriptions
Resources for Whitewater Paddlers in Japan: A place to start for English speakers is Outdoor Japan's Whitewater Page. There are a few references in Japanese that paddlers will find of use. The Mapple topopgrahic map atlas published by Shobunsha <www.mapple.co.jp> (ISBN 4-398-60024-8) is a useful guide for getting around the country. The map numbers and location coordinates for rivers are given for the 1:200,000 scale All-Japan Max Mapple Atlas. The book Canoe by Mitsuru Hosoda, published by Yama and Kei Publishers in 1991 as part of their Advanced Guide series (ISBN 4-635-15010) provides maps and guides to some of Japan's whitewater runs. The magazine Canoe Life published by Sankaido Publishers <www.sankaido.co.jp> features information on Japan's whitewater runs. English material on Japanese Rivers is limited. Postings to BoaterTalk can occasionally yield information or assist in locating English-speaking boaters who have lived or paddled in Japan. There is a short section in World Whitewater but the information is no more than a list of some of the popular runs. Whit Deschner has published a story on paddling in Japan in his book When the Wet Suits You, and a few articles have appeared in American Whitewater and Paddler. None of these, however, provide information on logistics.
Here are a few resources in Japanese.
Woodnote
Mitake Canoe Page
You can also check in with local paddling shops. ICI Sports Canoe Honten Shin-Okubo is one place to start. This is the best kayak shop in Tokyo with kayaks & accessories, and a knowledgeable laid back staff. You can find top quality equipment including kayaks, paddles, PFDs, helmets, spray-skirts, safety/rescue gear etc. etc. The focus is on white-water (playboating & slalom) and surf (not sea-kayak). They also have instruction books (English), videos and info on kayak/canoe schools and events.
Location:
Address: 2-18-10 Okubo, Shinjuku-ku, Tokyo, 169-0072
Short walk from JR Shin-Okubo station.
TEL: 03-3209-5547
FAX: 03-3209-7395

The following pages are a work in progress to some of the more popular runs. Use the information with caution and seek current local knowledge. I first began whitewater paddling in Japan 10 years ago, but am now living in the U.S. I update the pages as time permits and future trips to Japan become possible. If you would like to submit material (descriptions, corrections, or photos) I will gladly incorporate them in these pages. Tom O'Keefe.
last update Nov 2002